Thoughts
Restaurants have no right to take employees' tips
Trump's labor department is planning to make tips employers' property—a huge transfer of money from workers to owners

By Heidi Shierholz and David Weil. The Guardian, 2.6.18.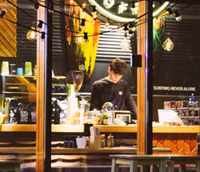 When most people leave a tip at a restaurant, they assume it will go to the person who served them their meal. For decades, that assumption was correct. But the Trump administration wants to change that.
Going against longstanding practice codified in a 2011 rule, the labor department, led by Trump appointee Alexander Acosta, has proposed a radical change that will allow restaurant owners to pocket the tips customers leave for the wait staff. It's a huge giveaway to corporate special interests – this time the National Restaurant Association – at the expense of millions of workers. Compounding it all, the Acosta labor department did so by defying basic procedures of the regulatory process designed to ensure transparency.
David Weil is Dean and Professor at Brandeis University's Heller School of Social Policy and Management. He served as US Wage and Hour Administrator at the Department of Labor during the last three years of the Obama administration. He is a leading international expert on workplace and labor market policy and was the Peter and Deborah Wexler Professor of Management at Boston University's Questrom School of Business before coming to Brandeis. The materials on this site arise from analysis contained in
The Fissured Workplace
and a growing body of research regarding the fundamental restructuring of employment and its impacts on workers and businesses. It also discusses approaches to dealing with the fissured workplace developed during the Obama administration as well as new ideas and efforts being discussed and undertaken today.
News
"Gig Economy Renews Debate Over Whether Contractors Are Really Employees," by Yuki Noguchi, NPR. 3.7.18. Hear or read the piece.

"A Horrifying Path to America for Hotel Workers," by Ariel Ramchandani, The Atlantic. 3.1.18. Read the article.

"Behind the minimum wage fight, a sweeping failure to enforce the law,"
by Marianne Levine, Politico. 2.18.18. Read the piece.

"The Future of Work," David Weil interviewed on Matt Townsend Show
on byuradio. 2.16.18. Listen to the piece.

"The Real Future of Work," by Danny Vinik, Politico Magazine, January/February 2018. Read the piece.
"Tax Law Offers a Carrot to Gig Workers. But It May Have Costs.," by Noam Schneider, New York Times. 12.31.17. Read the piece.
---
RECENT PUBLICATIONS
"Lots of Employees Get Misclassified as Contractors. Here's Why It Matters," Harvard Business Review. 7.5.17. Read the article.

"How to Make Employment Fair in an Age of Contracting and Temp Work," Harvard Business Review. 3.3.17. Read the article.
---
To access more articles, please visit our current News page.