Thoughts
David Weil delivers keynote at international labor forum and meets mayor of Seoul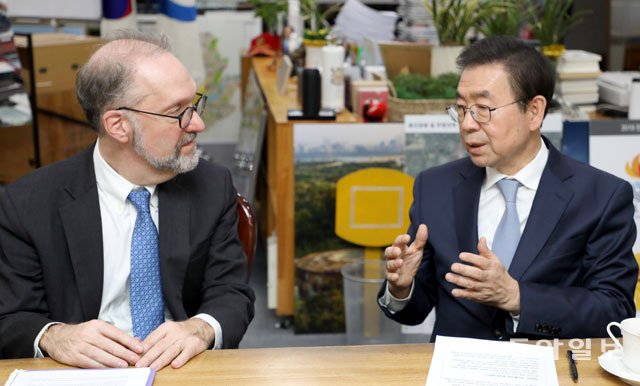 Dean Weil meeting with Seoul Mayor Won-Soon Park of Seoul. (Photo from Dinga.com)
On Dec. 11, 2018, David Weil delivered the keynote address at the Second International Forum on Transforming Cities for Decent Work, hosted by the Seoul Metropolitan Government in Seoul, South Korea. His speech, "Addressing Inequality and the Fissured Workplace through the Union City," discussed how changes in the employment relationship ("the fissured workplace") influences wages and contributes to earnings inequality, as well as how local governments at the city and state level can use policies to mitigate these problems.

Weil met with Seoul Mayor Won-soon Park and praised the mayor's "Union City" initiative, an approach that aims to improve the working environment for the nearly 10 million people who live in the South Korean capital. They discussed U.S. policies enacted during Weil's tenure as the administrator of the Wage and Hour Division of the U.S. Department of Labor, and how those policies might work in Seoul.
David Weil is Dean and Professor at Brandeis University's Heller School of Social Policy and Management. He served as US Wage and Hour Administrator at the Department of Labor during the last three years of the Obama administration. He is a leading international expert on workplace and labor market policy and was the Peter and Deborah Wexler Professor of Management at Boston University's Questrom School of Business before coming to Brandeis. The materials on this site arise from analysis contained in
The Fissured Workplace
and a growing body of research regarding the fundamental restructuring of employment and its impacts on workers and businesses. It also discusses approaches to dealing with the fissured workplace developed during the Obama administration as well as new ideas and efforts being discussed and undertaken today.
News
"The truth about Trump's 'economic miracle'," by Margery Eagan,
The Boston Globe, 2.7.19. Read the article.

"Harvard Is Vaulting Workers Into the Middle Class With High Pay.
Can Anyone Else Follow Its Lead?," by Eduardo Porter, New York
Times, 9.8.18. Read the article.

"Cities as 'Laboratories of Democracy' to Improve Labor Policies,"
by Kwon Ki-bum, DongA.com, 12.12.18. Read the article (in original
Korean). Read the article (in English translation).

"Pass-Through Deduction in 2017 Tax Law Could Weaken Wages,"
Center on Budget and Policy Priorities. 12.19.18. Read the article.

"New research shows the franchise business model harms workers
and franchisees, with the problem rooted in current antitrust law,"
by Brian Callaci, Washington Center for Equitable Growth. 12.13.18.
Read the article.

"How temp workers became the norm in America," by Scott Tong,
Marketplace, 11.15.18. Read the article.

"Amazon Raises Minimum Pay for Everyone—Except These
Workers," by Olivia Zaleski, Bloomberg, 11.1.18. Read the article.
---
RECENT PUBLICATIONS
"Workers Shouldn't Have to Sign Away Their Rights to Class Action
Lawsuits," Harvard Business Review. 6.5.18. Read the article.
---
To access more articles, please visit our current News page.