NEWS
2019
"Who's in charge at DOL?," by Rebbecca Rainey, POLITICO, 5.29.19. Read.

"Human error? Stop blaming workers for their own deaths," by Marissa
Baker,Noah Seixas and Trevor Peckham, The Seattle Times, 5.9.19. Read.

"Labor Dept. Says Workers at a Gig Company Are Contractors," by
Noam Scheiber, The New York Times, 4.29.19. Read the article.

"On May Day, assessing what a Sanders presidency would mean for
labour," by Adam D.K. King, The Conversation, 4.29.19. Read the article.
"In the basement of CHOP, warehouse workers say they're held to
impossible quotas," by Juliana Feliciano Reyes, 4.22.19.
Read
.


"The mystery of stagnating wages. David Weil elucidates." David
Weil interviewed on a podcast issued by Organisation for Economic
Co-operation and Development. 4.19.
Listen
.
"U.S. Moves to Limit Wage Claims Against Chains Like McDonald's,"
by Noam Scheiber,
The New York Times,
4.1.19.
Read
the article.

"Trump's Labor Department Does McDonald's Another Solid,"
by Dave Jamieson,
HuffPost,
4.1.19.
Read
.
"Why are Australian workers getting the smallest pay rises since
WWII?," by Stephen Long and Michael Janda,
ABC (Australian
Broadcasting Commision),
3.27.19.
Read
the article.
"
The truth about Trump's 'economic miracle'," by Margery Eagan,
The Boston Globe,
2.7.19.
Read
the article.
From homepage news section
(1/2019):
David Weil delivers keynote at international labor forum and meets mayor of Seoul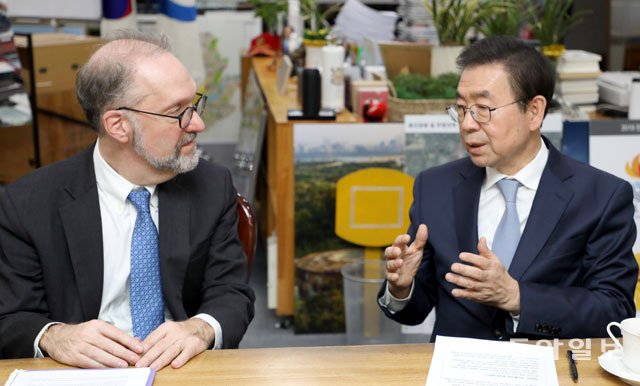 Dean Weil meeting with Seoul Mayor Won-Soon Park of Seoul. (Photo from Dinga.com)
On Dec. 11, 2018, David Weil delivered the keynote address at the Second International Forum on Transforming Cities for Decent Work, hosted by the Seoul Metropolitan Government in Seoul, South Korea. His speech, "Addressing Inequality and the Fissured Workplace through the Union City," discussed how changes in the employment relationship ("the fissured workplace") influences wages and contributes to earnings inequality, as well as how local governments at the city and state level can use policies to mitigate these problems.

Weil met with Seoul Mayor Won-soon Park and praised the mayor's "Union City" initiative, an approach that aims to improve the working environment for the nearly 10 million people who live in the South Korean capital. They discussed U.S. policies enacted during Weil's tenure as the administrator of the Wage and Hour Division of the U.S. Department of Labor, and how those policies might work in Seoul.